Acme Sanitation Service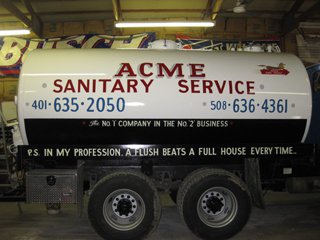 Acme Sanitation Service
Acme Sanitation Service provides 45 years of expertise in septic tank management, cleaning and maintenance. They service a large majority of homeowners in Rhode Island and surrounding areas.
Acme Sanitation Service
5 Peanuts Ln
Little Compton, RI 02837
Tel: 401.635.2050
Fax:
Hours:
Not Available

---

---
Acme Sanitation Service provides septic tank cleaning and related services. Family owned and operated for over 45 years, they pride themselves on great customer service. A properly maintained septic system is good for your health, good for your family's health, good for the health of the community and for the environment. Acme Sanitation Services will keep your system functioning at it's optimal level to help prevent costly repairs, replacement and damage to your home and property.