Acoaxet Club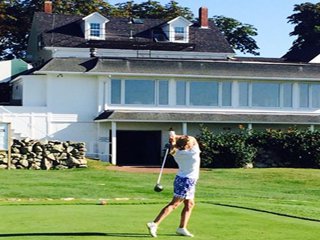 Acoaxet Club
Established in 1919, The Acoaxet Club continues its legacy as a private member-owned club that features one 9-hole golf course, eleven tennis courts and dining areas that overlook the Atlantic.
Acoaxet Club
152 Howland Rd
Westport Harbor, MA 02790
Tel: 508.636.4782
Fax:
Hours:
Not Available

---

---
The Acoaxet Club is an exclusive club for avid golf and tennis players. The club features a beautiful 9-hole golf course overlooking the Westport River and the Atlantic. They also offer eleven regulation size tennis courts some clay and some all weather. The Acoaxet Club features a beautiful clubhouse with guest rooms accommodations. There is a pro shop that carries the latest designs in golf and tennis equipment and apparel. The dining room and guest rooms was once home to a 19th century farmhouse. Lunch and dinner is served in the dining room and two outdoor decks. The Acoaxet Club also hosts functions for their members.