Battleship Cove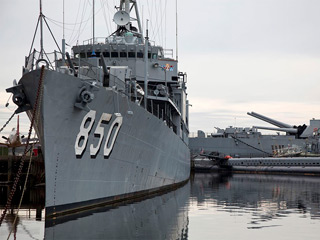 Battleship Cove
Maritime museum and war memorial featuring the world's largest collection of WWII naval vessels. Home to the battleship USS Massachusetts (BB-59).
Battleship Cove
5 Water St.
Fall River, MA 02722
Tel: 508.678.1100
Fax:
Hours:
4/1-6/30 9am-5pm; 7/1-Labor Day 9am-5:30pm; Labor Day-4/1 9am-4:30pm

---
---
Battleship Cove houses the Battleship Massachusetts, and several other naval vessels that visitors can explore. Other ships include destroyer USS Joseph P. Kennedy, submarine USS Lionfish, Jr., cruiser USS Fall River, and a P.T. Boat, as well as the Hiddensee, a Soviet-built missile corvette. However, Battleship Cove is more than a collection of historic war ships on the waterfront. Also on the site is the oldest functioning carousel in the country - the Fall River Carousel - circa-1930, which has been fully restored and is housed in a Victorian pavilion. Heritage State Park is adjacent to Battleship Cove on Mount Hope Bay, and features a visitor's center and harbor boardwalk. Nearby, visitors might also consider the Marine Museum, which houses a large collection of model ships as well as the the largest exhibit of Titanic memorabilia and artifacts in the United States.