Capone's Chicago Style Pizza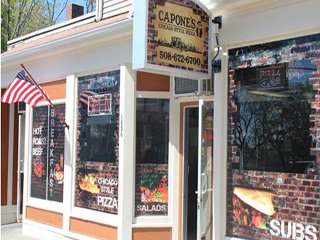 Capone's Chicago Style Pizza
Capone's Chicago Style Pizza offers customers dine-in or take-out, as well as free delivery, veteran discounts and a catering service.
Capone's Chicago Style Pizza
1856 Pleasant Street
Fall River, MA 02724
Tel: 508.672.6700
Fax:
Hours:
Not Available


---

---
Capone's Pizza in Fall River features Chicago-style Pizza, with a thicker crust around the rim, and a thinner crust under the sauce and toppings. Toppings at Capone's include Italian sausage, meatballs, salami, anchovies, linguica, proscuitto, and a number of vegetables. The gourmet pizza selection offers specialty pizzas such as the .45 Caliber, the .22 Caliber Special, the Chicago Special, the Tommy Gun Special and more.
Capone's Chicago Style Pizza also offers hot and cold sandwiches and subs, wraps, calzones, salads, wings, fish & chips, burgers, quesadillas, and plates such as veal, eggplant, sausage or chicken parm.