Delano Homestead B&B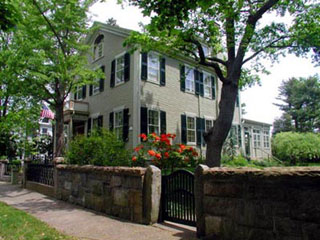 Delano Homestead B&B
Delano Homestead B&B- built in 1832, this 10 room, B&B comes complete with a conservatory and greenhouse. It was once the summer and holiday residence to Franklin Delano Roosevelt.
Delano Homestead B&B
39 Walnut St
Fairhaven, MA 02719
Tel: 508.992.5552
Fax:
Hours:
Not Available

---

---
The Delano Homestead B&ampB, built in 1832 by one of New England's most prominent families, is a stunning example of transitional/ late Federal / Greek Revival architecture.
The Bed and Breakfast is located on a quiet, residential street in the heart of Fairhaven village center, close to the town hall, library, beach, parks, bicycle path, museums, maritime academy, shops, restaurants, and working waterfront.
The 10-room, 3,800 square foot Bed and Breakfast, complete with conservatory and green house, framed by stone walls and wrought iron gates, was once the residence of Franklin Delano Roosevelts mother, grandfather, and great-grandfather.
It was FDRs summer and holiday residence into his adult years and was visited by him and Eleanor, even as president and first lady.