How on Earth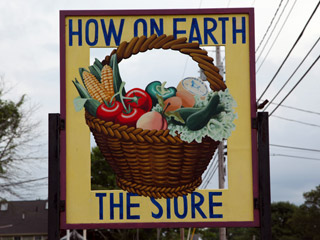 How on Earth
How on Earth provides fresh, local and organic food to customers, has a retail store and also offers catering services.
How on Earth
62 Marion Rd
Mattapoisett, MA 02739
Tel: 508.758.1341
Fax:
Hours:
Mon-Sat 9am-6pm
Lunch 11am-3pm

---

---
Since 2007, How On Earth has had a focus on sustainable communities and the role that food and local farming plays. The original concept was to have a CSA (shareholders pick up their shares of local produce) provided by a local farmer, using the store as a pick-up site. As interest grew, more products were provided and a kitchen was added so that How on Earth could make their own food. Today, How on Earth has a range of local organic produce and grocery items, gluten free, vegan and non-GMO foods.