Old Colony & Fall River Railroad Museum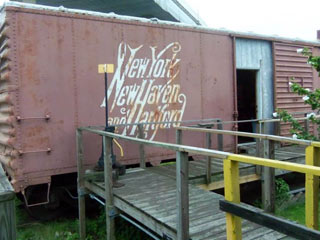 Old Colony & Fall River Railroad Museum
Railroad Museum near Battleship Cove in Fall River, The Old Colony & Fall River RR Museum aims to preserve the history of railroading in and around Fall River.
Old Colony & Fall River Railroad Museum
Corner Central & Water (PO Box 3455)
Fall River, MA 02722
Tel: 508.674.9340
Fax:
Hours:
Spring (May-Jun): Sat & Sun 12p to 4pm
Summer (Jul-Aug): Sat & Sun 12p to 4pm
Fall (Sep): Sat & Sun 12p to 4pm
Oct: Visitor our Haunted Rail Yard

---

---
A railroad museum whose mission is to preserve the unique history of railroading in the Fall River area. On display are four rail cars with interesting histories. Visit the Museum and have a walk-through, a special section is targeted towards children. Located on the corner of Central Street & Water Street (near Battleship Cove) in Fall River.