Pa Raffa's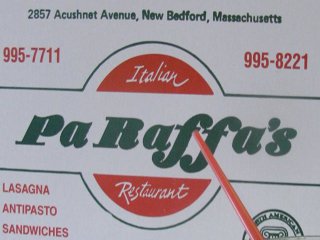 Pa Raffa's
Pa Raffa's Restaurant is a family-owned Italian restaurant that have been in business since 1964. They specialize in Italian food, pizza and sandwiches.
Pa Raffa's
2857 Acushnet Ave
New Bedford, MA 02745
Tel: 508.995.8221
Fax:
Hours:
Not Available


---

---
Pa Raffa's Restaurant is where the locals eat when they want to taste the amazing flavors of authentic Italian cuisine. They focus on providing their customers with traditional Italian dishes, specialty pizza and calzones. This place is a good destination for families wanting to treat their kids or simply a person that likes to taste real Italian cooking.