Seamen's Bethel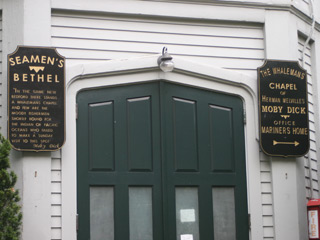 Seamen's Bethel
Chapel built in 1832 constructed specifically for the many whalers and sailors who called New Bedford their home port. Immortalized in Melville's epic whaling tale,
Moby Dick
.
Seamen's Bethel
15 Johnny Cake Hill
New Bedford, MA 02740
Tel: 508.992.3295
Fax:
Hours:
Not Available

---

---
The Seamen's Bethel was created by the New Bedford Port Society in 1832 to sustain moral character in the thousands of seamen employed in, what was once, the world's largest fishing and whaling port - New Bedford. Providing financial and spiritual aid to mariners and their families, the Bethel was well-known. Now, a National Historic Landmark, displaying cenotaphs of mariners lost at sea; chronicling lives from 1832-today. It currently lends itself as, not only a rich historical venue, but is the site of weddings, christenings and memorial services.