Slater Mill Museum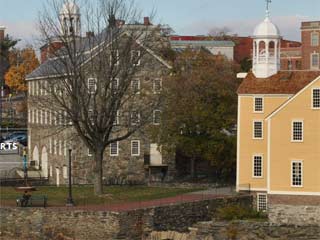 Slater Mill Museum
The Slater Mill is an historic textile mill complex on the banks of the Blackstone River and home to an accredited museum.
Slater Mill Museum
67 Roosevelt Ave
Pawtucket, RI 02904
Tel: 401.725.8638
Fax:
Hours:
Dec-Feb, groups may reserve; Mar, Apr & Nov, Sat-Sun 11am-3pm; May, June, Sep & Oct, Tue–Sun 10am-4pm; July 4- Labor Day, open 7 days, 10am-4pm
---

---
In 1793, Slater Mill became the first successful cotton spinning factory in the United States and is recognized as the birthplace of the American Industrial Revolution. Today, the Slater Mill campus includes 3 historical structures, a gift shop, exhibition gallery space, the Jencks Educational Conference Center and a rental hall. The 90-minute tour explains the manufacturing process and discusses U.S. historical topics such as immigration, slavery and industrialization.