St. Anthony of Padua Church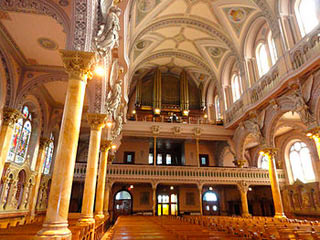 St. Anthony of Padua Church
Roman Catholic Church home to a large 4 manual pipe organ built in 1912. It was installed in an unusual second balcony located 70 feet above the floor.
St. Anthony of Padua Church
1359 Acushnet Avenue
New Bedford, MA 02790
Tel: 508.993.1691
Fax:
Hours:
Not Available

---

---
St. Anthony of Padua, a Roman Catholic Church in New Bedford's North End, was designed in 1902 by, Architect, Joseph Venne of Montreal. The church basement, completed in 1908, began being used for religious services and education. The church, completed in 1912, remains one of New England's most beautiful churches and is its third tallest. Some of the more notable features include: ornately designed main altar positioned in a seventy-five foot high rotunda, four additional smaller altars, intricately designed wood-carvings, stained glass and a Casavant pipe organ.