TowBoatUS New Bedford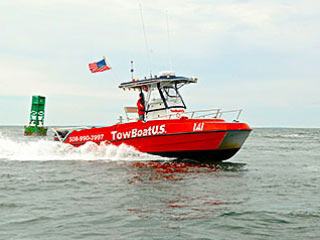 TowBoatUS New Bedford
TowBoatUS New Bedford offers quick-response marine assistance 24/7 to Buzzards Bay MA and the Islands. Services include towing, jump starts, fuel delivery, soft un-grounding, salvage and diving. Since 1995.
TowBoatUS New Bedford
497 Slocum Rd
Dartmouth, MA 02747
Tel: 508.990.3997
Fax:
Hours:
24 hr/day, 7 day/wk assistance
---

---
TowBoatUS New Bedford is a quick-response marine assistance company operating 24 hours per day every day of the week. Marine services offered include towing, fuel delivery, jump-starts, soft ungrounding, salvage and diving. Since 1995, TowBoatUS New Bedford has serviced Buzzards Bay and the Islands. TowBoatUS' four vessels are all operated by licensed, experienced captains and are fully insured and fully equipped. The vessels operate out of New Bedford, Westport and Dartmouth harbors in Massachusetts.