« Back to News
---
Best Unique Christmas Ornaments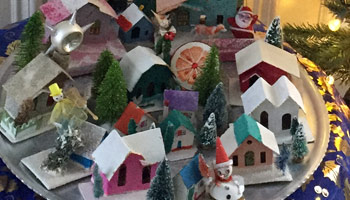 The SouthCoast offers a number of retail outlets to shop for unique Christmas ornaments.
There is something wonderful about giving (and receiving) a unique Christmas ornament. In addition to being a great gift- one that will surely be used for years to come, they also make great stocking stuffers or, add the final touch to the top of a beautifully wrapped present. Whether you like to make one-of-a-kind ornaments or search specialty stores to find the perfect one, we have a few SouthCoast suggestions.
Whether you are looking for the perfect addition to your own holiday ornament collection, a gift for your sister-in-law, hostess gift or to top off a package, the SouthCoast has plenty of unique Christmas ornaments from which to choose.
Unique Ornaments in the SouthCoast
The Newport Mansion Store
1 Bannister's Wharf (@ America's Cup Avenue)
Newport, RI
http://www.bannistersnewport.com/npt_preservation_store.html
The Newport Mansion Store is the perfect place to visit after taking a beautiful tour of the mansions decked out for the holidays and admiring the 24 decorated Christmas trees. Be inspired and give your Christmas tree a bit of the Gilded Age in America. The unique ornaments also make wonderful holiday and hostess gifts.
Thames Glass
688 Thames Street
Newport, RI
401-846-0576
http://www.thamesglass.com/
Thames Glass carries hand blown glass ornaments. They offer simple round glass balls to uniquely, one-of-a-kind decorated ornaments. They have made ornaments for Tiffany & Company as well as the Smithsonian catalog.
Serendipity by the Sea
160 Front Street
Marion, MA
508-748-1800
www.serendipitybythesea.net
Serendipity by the Sea is a unique gift shop that carries a wide collection of beach themed ornaments. A starfish or seashell ornament will look great on your own Christmas tree and make special gifts.
Euro Ship Store
2 Middle Street
Fairhaven, MA
508-994-3020
http://euroshipstore.vpweb.com/default.html
The Euro Ship Store offers unique, European inspired Christmas ornaments. Wonderful for holiday gift giving or a perfect addition to your own tree.
Bedford Merchant
28 William Street
New Bedford, MA
508-997-9194
http://store.bedfordmerchant.com/index.php?route=product/category&path=51
Family owned and operated, the Bedford Merchant has been a staple gift shop in historic downcity New Bedford for nearly 40 years. They carry unique holiday ornaments from religious angels to whimsical snowmen.
« Back to News