« Back to News
---
Best clam chowder in the SouthCoast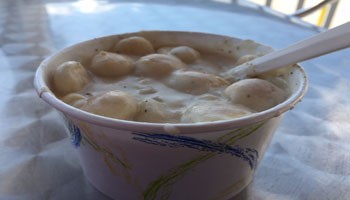 The SouthCoast of Massachusetts and Rhode Island have plenty of options for the best clam chowder.
SouthCoast locals and tourists take the subject of clam chowder (phonetically pronounced by locals as chowda) and the variations of the recipe very seriously.
Chowder has a long standing history in our region. Herman Melville, American novelist, devoted an entire chapter in his famous 1851 book Moby Dick to the subject and refers to Try Pots, a chowder house in Nantucket, Massachusetts that served only chowder.
Most southeastern Massachusetts and western Rhode Island natives and vacationers prefer either thick or clear chowder, while a small amount of others want to add just enough tomatoes to tint it a pretty pink color - referred to as Manhattan style. In 1939, adding tomatoes to clam chowder in place of cream had become so contentious that a bill was introduced in the legislature making it illegal to add tomatoes to chowder. Despite a high profile battle and close vote, the bill never passed.  
Clam chowder is a popular choice at most SouthCoast summer shacks and styles vary from place to place. Creamy chowder, thinner, lighter broth chowder, briny chowder and even Manhattan style chowder all have their respective fans. Try it in a cup with oyster crackers, in a bread bowl or with a side of clam cakes for dunking. It's the perfect food to enjoy at an outdoor picnic table watching the sun set. 
Rhode Island
Flo's Clam Shack
The Lobster Pot
Iggy's Doughboys and Chowder House
Dartmouth
Fay's Too
Cape Quality Seafood
Westport
Bayside Restaurant
New Bedford & Acushnet
Fathoms Bar & Grille
Seafood Hut & Creamery
Country Whip
Knuckle Heads
Fairhaven
Rasputin's Tavern
The Fish House
The Pasta House
Mike's Restaurant
Gene's Famous seafood
Fall River & Somerset
Higson Seafood
North End Seafood Company
Wareham
The Lobster Pot
Gateway Tavern Grill and Bar
Kool Kone
Taunton
Frates Drive-In
Plymouth
The Lobster Pound
Mattapoisett
Oxford Creamery
« Back to News