« Back to News
---
Clam Shacks in SouthCoast MA and RI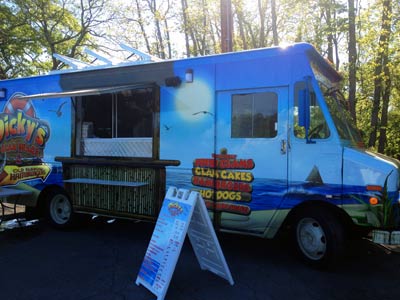 Dickys Clam Shack opened in Massachusetts in 2015 near the Dartmouth - Westport line.
Summer in New England means lazy days at the beach, long drives along the coastline and enjoying food at the best clam shacks in the region. Locals and tourists alike can't wait for these seasonal shacks to serve up our favorite summer delights. Offerings are fresh and plentiful from local docks and farms. 
Seasonal favorites include fried clams, scallops, fish and chips, clam chowder, clam cakes and don't forget the ever-popular lobster roll - synonymous with the summer in the SouthCoast. Shack food isn't just for the seafood lover - there are also plenty of delicious options for land lovers. Burgers, dogs, sweet potato fries and plenty of ice cream and frappes. Try some of these local clam shacks and make sure finding the best of your favorite shack food is on your sand bucket list this summer. 
There's a new shack in town and his name is Dicky's Clam Shack- it's more like a clam shack on wheels. The state-of-the-art, custom designed and made mobile food truck is located on Route 6 near Caddy Shack and the Dunkin Donuts. Recently opened, it offers fried clams, clam cakes, chowder, old-fashioned hamburgers, hot dogs and more, and promises to be a go-to destination this summer. Why not go hit a bucket of balls or play a round of miniature golf and visit this new local establishment.
Oxford Creamery offers ice cream, fish & chips, stuffed lobster rolls to double cheeseburgers. It's part ice cream shop and part short order restaurant. Locals and visitors alike have flocked to Mattapoisett's famous little white restaurant every summer since 1931. Oxford Creamery continues to offer customers a taste of authentic New England fare made on site with the freshest ingredients. Opened seasonally with limited hours in the Spring and Fall. Oxford Creamery has a new venture- the Oxcart. It's a hot dog cart and more featuring their famous lobster roll and steamed hot dogs with the owners own homemade chili and Coney Island sauce. The Oxcart is opened in the parking lot during some off hours and can be rented for special events or get togethers.
For over 40 years, Evelyn's Drive In is opened seasonally from mid-April to mid-September (ish) daily for lunch and dinner. Diners can order at the take-out counter and enjoy your meal at the covered picnic table area overlooking Nanaquacket Pond, dine inside the air conditioned dining room or enjoy the outdoor patio located steps from the water- it's a great place to see a Sakonnet sunset. Enjoy classic seafood fare, clam cakes, whole belly clams or one of Evelyn's homemade meals such as chicken pie or a classic burger. Boaters welcome- dock available.
Kool Kone has the most extensive food and ice cream menu offering everything from appetizers to complete dinners. They serve seafood plates and rolls, homemade soups and salads, sandwiches, wraps, grill offerings and even quesadillas. The ice cream side offers just as many options. One scoop or more, toppings, sundaes, frappes, milkshakes and floats. Kool Kone offers daily specials, catering is available or let them host your next party. Opened 7 days a week.
The original Macray's seafood opened in 1957 in a little shack on Route 6 in Westport and closed in the mid 80's. Macray's II is owned and operated by Robert Lafleur who, at the age of 13, began working at the old Macray's picking up trash in the parking lot and worked his way all the way up to cooking. He decided to re-launch the business, retain the name use all the recipes he'd learned from his former job. Menu items include fish & chips, scallops, clam cakes and New England clam chowder. Opened seasonally weekends only for lunch and dinner. Eat in (limited booth space indoors & a few picnic tables outdoors) or take out.
« Back to News