« Back to News
---
Outdoor Bars and Outdoor Restaurants in South Coast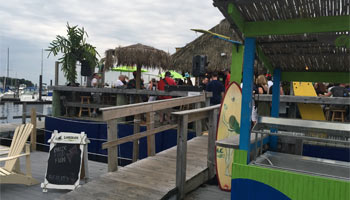 The Tipsy Seagull is an outdoor bar with a tiki theme located in Fall River, Mass.
(Photo by:&nbspSouthCoast Directory)
Ahhh, the feeling of the warm sun in your face, a cold beverage in your hand and a plate of delicious food. It's that time of year on the SouthCoast where folks are flocking to their favorite outdoor bars and restaurants listening to the sounds of a local band, the ocean waves or the buzz of conversation from neighboring tables.

Brightly colored umbrellas cover both table tops and appear in colorful drinks. Locals and tourists alike have plenty of places to choose from to enjoy eating, drinking, and the sun, sights and smells of local al fresco dining.
New Bedford
The Edge (formerly Davy's Locker)
The Waterfront Grille
The Black Whale
Fall River
Tipsy Seagull
The Cove Restaurant
Warren, RI
The Wharf Tavern
Trafford Restaurant
Tiverton, RI
Boat House Restaurant
Providence, RI
The Hot Club
Rooftop at the Providence G
Newport, RI
The Deck Restaurant and Bar
The Smoke House
« Back to News