« Back to News
---
Summer Events in SouthCoast MA and RI and beyond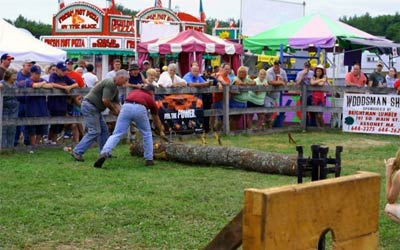 The Westport Fair features many farming related contests, including log cutting and tractor pulls.
The SouthCoast is the perfect backdrop for seasonal fun, fairs and festivals. There is a lot going on, something for everyone to enjoy all summer long. The SouthCoast highlights the arts - music, crafts, fine art and antiques; the outdoors - Dartmouth is host to the largest regatta in the U.S., kite flying, boating and swimming to save the Bay. The region hosts festivals promoting different cultural traditions- the largest Portuguese feast in the U.S. takes place in New Bedford every year and traditional New England clambakes double as fundraising events to support community programs and environmental causes. There is plenty of outdoor fun for pets and the people that love them, duck derbies, Civil War re-enactments and country fairs with rides, crafts, food and more. The SouthCoast is rich in history, culture and summertime entertainment from the sea to farms and all destinations in between. 
NEWPORT
Newport Folk Festival
www.newportfolk.org
Fort Adams State Park
90 Fort Adams Drive
Newport, R.I.
info@newportfolk.org
July 24, 25, 26 – 11am-sunset
Born in 1959, the Newport Folk Festival became known for introducing performers who went on to become popular musicians, most notably Joan Baez and Bob Dylan. Fort Adams State Park is the backdrop for the festival. It is located at the mouth of the Newport Harbor with panoramic views of Newport Bridge and the east passage. There are 4 stages of music, food and crafts.
Newport Music Festival
www.newportmusic.org
Box office ph.: 401-849-0700
Main ph.: 401-846-1133
47th season is July 10-26
Newport Music Festival has played a significant cultural role in Rhode Island since 1969. In the years since its inception, the Newport Music Festival has produced and hosted over 2100 concerts in venues throughout Newport and surrounding communities. This year, there will be 66 concerts in 12 locations featuring international musicians. For ticket information, the box open is open daily from 10am-6pm.
Newport Flower Show
www.newportflowershow.org
Rosecliff
548 Bellevue Avenue
Newport, R.I.
401-847-1000
June 19-21; 19th 10:30am-5pm; 20th & 21st 9am-5pm

Rosecliff was the birthplace of the American Beauty Rose long before it became host to the Newport Flower Show. The Newport Flower Show is New England's premier flower show and in 2015, celebrated its 20th anniversary. There were colorful floral designs, horticulture exhibits, garden displays, a champagne and jazz brunch, lectures, demonstrations and activities for little gardeners as well.
Newport Antique Show
www.newportantiqueshow.com
St. George's School
375 Purgatory Road
Middletown, R.I.
401-846-2669
July 24-26; 24th & 25th 10am-6pm; 26th 10am-4pm
Gala preview party July 23rd 6pm-9pm
The Newport Antiques Show is regarded as one of premier antique venues in the U.S. Over 40 of the country's top dealers present paintings, furnishings, folk art, jewelry, fine and decorative arts. Daily lectures are available. The proceeds from this event benefit the Newport Historical Society and the Boys & Girls Clubs of Newport County.
Newport Kite Festival
www.newportkitefestival.com
Brenton State Park
Ocean Drive
Newport, R.I.
401-244-5264
July 11 & 12; noon-4pm
The Newport Kite Festival began in 1986 and, although has been operated by different organizations and leaders over the last 3 decades, remains a favorite spectator summer activity. The Newport Kite Festival is held on the Southern tip of Newport and is surrounded by water on three sides. Admission is free.
PROVIDENCE
Providence WaterFire
www.waterfire.org/about/
401-273-1155
WaterFire Providence is a downtown celebration of community and the visual and performing arts. On WaterFire nights, 100 bonfires burn above the surface of 3 rivers that meet in Waterplace Park. People come to walk the riverfront, enjoy the beauty of the firelight, music and the arts. This free community event takes place from May to November.
RI Philharmonic Providence Pops
www.ri-philharmonic.org
401-248-7070
July 4 & 10, August 30, September 12
The Rhode Island Philharmonic Orchestra will play four Pops concerts throughout Rhode Island. Beginning on July 4th at India Point Park, July 10th at Narragansett Town Beach, August 30th Independence Park in Bristol and September 12th Slater Park in Pawtucket. These annual concerts are free of charge and open to the public.
NEW BEDFORD
Swim the Bay
www.savebuzzardsbay.org/
Begins in the south end of New Bedford and ends at Fort Pheonix Beach & State Reservation
June 20, 2015; 7:15am
2015 marks the 22nd annual Buzzards Bay Swim. The Buzzards Bay Coalition raises awareness and funds to protect clean waters in local communities. Swimmers complete a 1.2 open ocean swim across New Bedford harbor.
Festival of the Blessed Sacrament
www.portuguesefeast.com
Club Madeirense
50 Madeira Avenue
New Bedford, MA.
508-992-6911
July 30- August 2, 2015
Since 1915, the Feast of the Blessed Sacrament has been a part of the Portuguese community. Rich in history and culture, the 4 day feast boasts authentic foods, continuous entertainment, a parade, road race and a midway with rides and games. It is the largest Portuguese feast in the U.S. with over 100,000 visitors annually.
New Bedford Jazz Festival
www.newbedfordjazzfest.wordpress.com
contact@newbedfordjazzfest.com
508-993-0772
June 13, 2015; 1:30-7pm
The New Bedford Jazz Festival (NBJF) promotes local jazz musicians, crafters & fine artists, area breweries and New Bedford based food trucks. JazzFest draws attention to the thriving, vibrant artistic community in New Bedford. The proceeds from NBJF benefit Your Theatre, Inc. a non-profit, volunteer community theatre group in New Bedford.
United Way of Greater New Bedford annual Clambake with Lobster
www.newbedfordchamber.com/
June 12, 2015; 5-11pm
The United Way of Greater New Bedford hosts an annual traditional New England clambake. With your ticket, participants get a 1 ¼ pound lobster, steamed clams, linguica, corn on the cob, roasted red potatoes, onions and more. There is a limited cash bar. Proceeds benefit programs sponsored by the local United Way.
New Bedford Folk Fest
www.newbedfordfolkfestival.com/
July 4 & 5, 2015; 11am-9pm
The New Bedford Folk Fest will celebrate 20 years of entertainment this year. The Folk Fest is host to 70+ renowned and emerging performers, 90 arts and craft vendors, food carts, a food court and participating local restaurants. There will be continuous folk music both days on seven stages in and around the New Bedford Whaling National Park.
Coalition for Animals of Greater New Bedford
Pet Fest and Walk for Animals
Buttonwood Park
745 Rockdale Avenue
New Bedford, MA.
May 17, 2015; 11am-3pm
For over 15 years, the Coalition for Animals of Greater New Bedford has sponsored the annual pet fest at Buttonwood Park. Typically attended by 400 dogs and their humans, this family friendly event hosts contests, raffles, vendor booths and demonstrations. This fundraiser benefits the program pets beside vets, that helps subsidize the adoption fee for local war veterans to adopt a pet from an area shelter.
Buzzards Bay Regatta
www.buzzardsbayregatta.com
New Bedford Yacht Club
208 Elm Street
Dartmouth, MA.
August 7-9, 2015
The Buzzards Bay Regatta is the largest multi-class regatta in the U.S. with over 450 boats, 1200 sailors across 15 different classes. Check in time is 7am and racing begins at 10:30am daily. On odd years, New Bedford Yacht Club is the host and even years Beverly Yacht Club plays host to this 40+ year old regatta.
FALL RIVER
Feast of the Holy Ghost Portuguese Feast
Kennedy Park
300 Bradford Avenue
Fall River, MA.
August 20-23, 2015
Each August since 1986, Kennedy Park is host to the Great Holy Ghost Feast of New England, a celebration of Azorean culture. The 3 day cultural event features food, entertainment, classic car displays, blessings, processions and a parade. There is entertainment performing and attractions day and night for the 3 day feast.
MATTAPOISETT
Harbor Days
www.mattapoisettlionsclub.org
Water Street
Mattapoisett, MA.
July 17-19, 2015
The Mattapoisett Lions Club sponsors the annual Harbor Days events. The weekend includes craftsman and artisans, live entertainment, raffles and free movies in the park and lots of food and fun for all ages. Other annual activities include a fish fry, lobster fest and pancake and sausage breakfast.
FAIRHAVEN
Fort Rodman Pyrate Invasion
www.forttaber.org
July 10-12, 2015
The Fort Taber and Fort Rodman Historical Association sponsor annual re-enactments of historical events. There are three days of pirate battles with New England and Caribbean pirates defending New Bedford. Onlookers can watch daily land/sea battles with 2 fully-gunned ships, special effects and exciting stunts. Food, music, artists, kids' activities and wrecker's row (antique market) are all onsite.
Fairhaven Homecoming Day Fair
www.fairhavenhomecoming.wordpress.com
Center Street, from William to Green Streets
Fairhaven, MA.
June 27, 2015; 10am-4pm

The Homecoming Day Fair is Fairhaven's largest annual event and is sponsored and organized by The Fairhaven Improvement Association. Featuring over 175 booths of handmade crafts, food, entertainment, art exhibits and children's activities including fire engine rides. It is a free community event and is handicapped accessible.
WESTPORT
Westport Rivers Vineyard Sunset Music Series
www.westportrivers.com/events
Westport Rivers Vineyards
417 Hixbridge Road
Westport, MA.
508-636-3423
Summer dates announced each year
2015: June 19, 26; July 3, 10, 17, 24, 31; August 7, 14, 15, 21, 22, 28, 29; September 5, 12; 6pm
Westport Rivers Vineyard Sunset Music Series features great entertainment from regional performers. It's a picnic style event and attendees may bring their own food or enjoy something from local chefs preparing food onsite. Bring a blanket, chairs, glasses and a cork screw. Local beer and wine is available for purchase- no alcohol may be brought in to the event. Tickets must be purchased online.
Westport Fair
www.westportfair.com
Westport Fairgrounds
200 Pine Hill Road
Westport, MA.
Third weekend in July from Wednesday to Sunday
July 15-19, 2015
The Westport Fair is a celebration of traditional New England farming. There are tractor pulls, baking contests, canning, vegetable and crafts for sale, kids' carnival and animal rides, entertainment and food vendors. Free parking. Small entrance fee used to operate the fair, reinvest in the fairgrounds and student scholarships. No dogs permitted.
DARTMOUTH
Lloyd Center for the Environment Annual Clambake
Demarest Lloyd State Park
115 Barneys Joy Road
Dartmouth, MA.
508-990-0505
www.lloydcenter.org/clambake
July 10, 2015; 6:30pm
The Lloyd Center for the Environment is hosting their 30th clambake to help underwrite the cost of the Lloyd Center's environmental research and educational programs. Held by the side of the sea at Demarest Park, hors d'oeuvres and chowder are served first, followed by a traditional full lobster dinner. Open bar, silent auction and live band.
Allen's Pond Annual Duck Derby
August 15 & 16, 2015; August 15- 6:50pm; August 16- 11am-2pm
Field Office
1280 Horseneck Road
Westport, MA.
508-636-2437
www.massaudubon.org/get-outdoors/wildlife-sanctuaries/allens-pond/news-events/duck-derby
Purchase and race a rubber duck (or more) to support Allens Pond and win the grand prize of dinner for two anywhere in the world. 40 other additional great prizes offered. The Duck Derby Festival is on Sunday from 11am-2pm and offers a BBQ, educational exhibits, live music, silent auction, a live plant auction and duck derby winners.
TIVERTON, RHODE ISLAND
Tiverton Art & Artisan Festival
www.artsandartisanfestival.com
Lawn behind the Mill Pond Shops
3998 Main Road
Tiverton, R.I.
July 18, 2015; 10am-4pm
The annual Art and Artisan Festival is located in historic Tiverton Four Corners. This year they will be celebrating their 28th year. The festival hosts 60-100 unique artists ranging in medium and style congregating from all over New England. There will be live entertainment throughout the day by local musicians, food trucks and beverages.
Tiverton Antique Show
www.ferguson-darruda.com
Meeting House
3850 Main Road
Tiverton, R.I.
July 4, 2015; 9am-4pm
Ferguson and D'Arruda host the Tiverton Antique Show each summer on the grounds of the Meeting House. They have been in the antiques business for over 30 years, starting in a small shop in Adamsville. Ferguson and D'Arruda now manage antique shows all over Rhode Island.
SAKONNET, RHODE ISLAND
Alex & Ani Summer Concert Series at Carolyn's Sakonnet Vineyards
www.sakonnetwine.com/
162 West Main Road
Little Compton, R.I.
June 4- September 3, 2015; recurring every Thursday evening; 6-9pm
2015 marks the 2nd annual Alex and Ani summer concert series at Carolyn's Sakonnet Vineyard. Bring lawn chairs, blankets and visit Carolyn's Café for a bite to eat and the perfect glass of wine. Parking is $10 per car and allows patrons to receive $10 off a bottle of estate wine.
TAUNTON
Taunton Area Chamber of Commerce Annual Golf Tournament
www.tauntonareachamber.org/events/eventdetail.aspx?EventID=80
LeBaron Hills Country Club
183 Rhode Island Road
Lakeville, MA.
June 22, 2015; 11:30am-6pm
The Taunton Area Chamber of Commerce has been hosting this annual golf tournament for nearly 39 years. The tournament raises funds for the Chamber as well as for the Charles E. Volkmann Scholarship Fund. Shotgun start at 12:30, prizes and a dinner.
ATTLEBORO
Annual Native American Pow-Wow
Mark Brintnall- 508-680-6354
La Salette Shrine Fairgrounds- Route 118
Park Street
Attleboro, MA.
June 13 & 14, 2015; 10am-5pm
This annual Pow-Wow offers visitors an authentic Native American experience. There are traditional Native American crafts, storytelling, singing, dancing, raffles, children's activities and authentic drumming demonstrations. Refreshments available. No alcoholic beverages permitted. Admission is $2.00; children under 12 and seniors are free.
WAREHAM
Cranberry Harvest Celebration
www.admakepeace.com
A.D. Makepeace
158 Tihonet Road
Wareham, MA.
October 10 & 11, 2015; 10am-4pm
Columbus weekend marks the annual Cranberry Harvest Celebration, a New England tradition to see the beauty of cranberry harvesting during an old-fashioned family festival. Watch the harvesting of the cranberries, enjoy live cooking demonstrations, visit wide variety of artist and craft booths, listen to local musicians, enjoy the farmers' market and food concession area, train, pony and paddle boat rides.
PLYMOUTH
Plymouth Waterfront Festival
www.plymouthwaterfrontfestival.com
Water Street @ Plymouth waterfront
Plymouth, MA.
August 29, 2015; 10:30am-7pm
This annual waterfront festival boasts something for everyone. There are over 250 crafters & vendors, over 30 food trucks, cruise-in car show, live entertainment from 2 stages, pizza eating contest, duck races and a kid's zone with inflatables, games and more. Car show until 3 and duck races at 5. Admission is free.
REGIONAL
SouthCoast Artist Open Studio Tours
Various participating studios
www.southcoastartists.org
July 18-19, 2015 & August 15-16, 2015
South Coast Artists features two open studio weekends annually. The tours offer the public a great opportunity to visit the studios of artists living, working and exhibiting the coastal towns of Tiverton, Little Compton, Westport and Dartmouth. The self-guided tour will bring you to over 70 artists working in different mediums. Follow the map and look for the blue and white open studio signs marking each studio or gallery.
South County Hot Air Balloon Festival
www.southcountyballoonfest.com
URI Athletic Fields
5 Upper College Road
Kingston, R.I.
July 17-19, 2015; July 17- 4-9pm; July 18- 6am-9pm; July 19- 6am-6pm
This annual hot air balloon festival is also home to the Rhode Island State BBQ championships. The three day event offers visitors food, BBQ, carnival rides, games, hot air balloon rides, hot air balloon viewing, rock wall climbing, fireworks and a classic car show. Friday and Saturday nights will have a balloon night glow. 
« Back to News